---
The Arecont Vision Reseller Partner Program is designed from the ground up to help authorized dealers and systems integrators grow their business and benefit their customers with quality products and services.
Quick Links: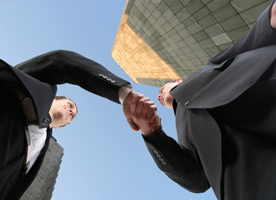 Arecont Vision University
Arecont Vision University equips Reseller Partner Program members with the knowledge and tools needed to design, install, implement, and support megapixel solutions through the Channel Partner Program (CPCP) and the Advanced Channel Partner Program (A-CPCP).
Since 2009, thousands of students have completed a mix of classroom and online training through Arecont Vision University, and many of the courses offer continuing education credits.
Learn more about Arecont Vision University at /avu/welcome/.
Project Registration - Online
The highly-acclaimed Arecont Vision Project Registration Program is available to all authorized dealers and integrators who participate in the Arecont Vision Reseller Partner Program.
The Project Registration Program continues to lead the industry in ensuring that authorized dealers and integrators who have invested the time with their customers to design the best solution are rewarded with additional discount for the project. In this manner, other resellers are not able to enter the project at the last moment and try to win based on price alone without detailed knowledge of the customer requirement.
To learn more about the Arecont Vision Project Registration Program, go to /partners/online-project-registration .
Advanced Replacements and RMAs
Customer satisfaction surveys show that our customers rate Arecont Vision products as very high quality and recognize that the company stands behind our products. When a problem does occur, advanced replacement is an aspect of the industry-leading RMA (Return to Manufacturer Authorization) process that Arecont Vision delivers. The goal is to provide rapid turnaround to get the customer up and running quickly.
Requests can be made online, and Arecont Vision support in the Tactical Assistance Center (TAC) will assist with remote diagnosis to further speed the process and identify problems that can be resolved onsite without a return.
Access to Arecont Vision Products
The Arecont Vision Channel Partner Program offers highly competitive tiered pricing and promotions in recognition of the commitment to our products and to the customer. Authorized dealers and integrators who participate in the program are supplied via the Arecont Vision global network of authorized distributors, and are able to leverage sales and support resources as well as genuine, warranty-protected products.
Sales, Technical, and Marketing Support
Project Design - Arecont Vision Sales and Field Application Engineer teams provide design assistance to authorized dealers and integrators for registered projects to help ensure the best solution to customer requirements.
Technical Assistance Center – Access is provided to Arecont Vision Customer Service and our Technical Assistance Center (TAC) for pre- and post-installation support.
Sales Leads - Arecont Vision delivers sales leads to channel partner program members.
Marketing Support - Arecont Vision develops collateral, presentations, sales tools, advertising, and events to support channel partner program members.
Partner Portal - Arecont Vision provides a partner portal for technical and design tools, calculators, firmware, project registration, sales collateral, and presentations.
Become a Partner