MegaIP® Camera Series
Cyber-Secure. Made in the USA.
MegaIP megapixel cameras are designed and manufactured in the USA around our in-house-developed Massively Parallel Image Processing (MPIP) architecture, which runs on a Field Programmable Gate Array (FPGA) integrated circuit at the camera's core. The unique architecture is now in its 5th generation, delivering both outstanding cybersecurity protection and unmatched upgradability to extend the useful life of our cameras. MegaIP offers the surveillance industry's most complete range of single-, dual-, and multi-sensor cameras.
A Complete Range of Solutions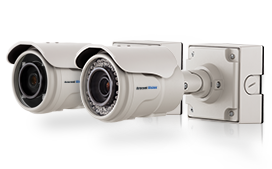 Feature-Loaded Bullet
The MegaView megapixel camera family is loaded with features and options. The second generation MegaView 2 comes standard with IR, sunshield, and a junction box for quicker installation. With SNAPstream™ advanced compression algorithm, Wide Dynamic Range, image down scaling, and CorridorView™, MegaView 2 has an adaptation for almost any environment or scenario. These indoor/outdoor all-in-one solutions integrate a 1080p, 3-, 5-, or 10-megapixel camera with fast frame rates and an IR corrected motorized wide angle or telephoto, P-iris lens into an IP66 environmental rated, IK-10 impact-resistant bullet-style housing.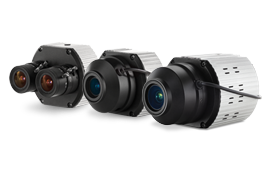 Single- and Dual- Sensor Box Cameras
From the economical single- and dual-sensor Compact, to the mainstream G5, and the high-performance 4K and UltraHD, the MegaVideo family of megapixel cameras provide ample resolution to zoom-in for details in live or recorded video. These box camera solutions are available at several resolutions from 1.2- to 12-megapixel with the fastest frame rates in the industry. MegaVideo cameras are "build to order" solutions featuring a multitude of combinations of feature levels, lenses, and enclosures for specific applications (sold separately).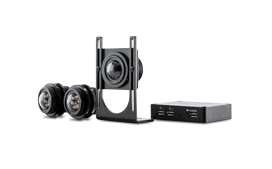 Compact, Flexible Solution
The MegaVideo Flex camera series offers a cost-effective security solution for installations that require a flexible, compact design. Due to its small footprint, the MegaVideo Flex easily fits into leading automated teller machines and other tight spaces. These stylish indoor cameras feature a choice of 1.2MP, 1080p, 3MP, and 5-megapixel (MP) resolution options, and a unique tethered USB cabling design that allows the camera to be mounted in one area while the main unit is mounted up to 40ft (12m) away.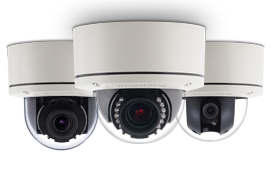 Feature-Loaded Domes
The MegaDome family is loaded with features and options inside an installer-friendly, IP66 environmental rated and IK-10 impact-resistant housing design. MegaDome G3 cameras feature remote focus and zoom functionality with a P-iris lens and MegaDome G3 RS has complete "no-touch" remote setup with pan, tilt, focus, and zoom functionality. Available in resolutions from 1080P to 10-megapixel with SNAPstream technology for low bandwidth, Enhanced Wide Dynamic Range options, True Day/Night, IR, non-integer down scaling, and CorridorView™ features, MegaDome G3 series cameras deliver for almost any environment or scenario. MegaDome 4K and UltraHD models feature high-performance, high frame-rate video in 8.3 and 12 megapixel resolutions.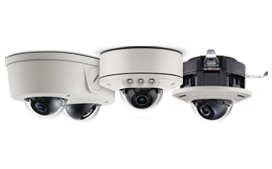 Single- and Dual- Sensor Ultra-Small Domes
The MicroDome series of megapixel cameras feature micro-sized cost-effective solutions for discrete surveillance applications. MicroDome Duo is perfect for a long hallway, corner of a room, or for an entrance of a building with its twin remote focus, user-configurable sensors. MicroDome G2 surface models feature IR LED illuminator options for stronger low light performance, and flush-mounted models are among the easiest to install cameras on the market. All MicroDome series cameras offer a low-profile surveillance solution with multiple features and options to choose from. MicroDome G2 cameras are available in 1.2MP, 1080P, 3MP, and 5MP resolutions and MicroDome Duo cameras are available in 4MP, 6MP, and 10MP resolutions. All MicroDome cameras are IK-10 impact resistant and IP66 environmental rated.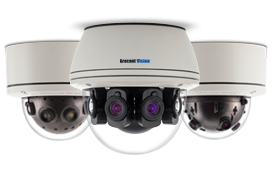 Multi-Sensor Panoramic Domes
Delivering revolutionary innovation with in-house design from the ground up, the SurroundVideo 180° and 360° seemlessly-aligned panoramic multi-sensor, multi-megapixel cameras can each replace multiple conventional or pan-tilt-zoom cameras. Now in its 5th Generation, the SurroundVideo series multi-sensor, multi-megapixel cameras provide an all-in-one solution for capturing wide area video surveillance while maximizing the field-of-view and reducing the total number of cameras required. SurroundVideo cameras include four sensors uniquely housed in an IK-10 impact-resistant, IP66 environmentally-rated dome enclosure. Models are available in 180° and 360° panoramic configurations with resolutions of 5MP, 8MP, 12MP, 20MP, and 40MP.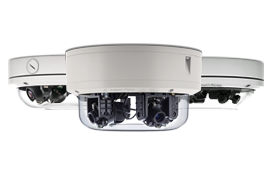 Customizable Multi-Sensor Domes
The SurroundVideo Omni megapixel camera demonstrates ground-breaking versatility with its magnetic Omni track design encompassing 73 user-configurable sensor positions and multiple lens options for each of the four, independently configured sensors, providing endless configurations. A single SurroundVideo Omni series camera can replace multiple conventional cameras. SurroundVideo Omni SX cameras feature 3-axis gimble, remote focus sensor models and Omni G3 models are able to be completely setup remotely using the motorized track and sensor gimbles. Omni delivers the perfect field of view and zoom into multiple regions of interest. SurroundVideo Omni series IK-10 impact resistant and IP66 environmental rated cameras are available in 12- or 20-megapixel (MP) resolutions.
The Benefit of MegaIP Quality Megapixel Resolution

Arecont Vision megapixel technology in our MegaIP series deliver superior image quality, increases video coverage, and reduces overall system costs by covering larger areas with fewer, more reliable cameras. Catching a suspect or car involved in a crime or incident often comes down to the clarity in which a surveillance camera captures a face or license plate. Arecont Vision technology includes excellent glass lens imaging packages, innovative designs, and outstanding resolution. Arecont Vision can dramatically reduce the number of cameras required for projects while increasing image clarity and situational awareness coverage.

Extreme Lighting Conditions

Video surveillance is a 24-hour per day operation. Maintaining a clear and detailed visual through fluctuating lighting conditions can be challenging. Arecont Vision offers several industry-leading technologies to deal with the harshest of lighting environments from intense backlight to low light and no light conditions.

Performance

Arecont Vision MegaIP series cameras deliver proven performance, including unmatched cybersecurity protection, thanks to our FPGA technology and massively parallel image processing architecture. We can add new features and capabilities to existing Mega cameras, extending the useful life of our products to the benefit of customers.
MegaIP cameras also balance bandwidth requirements with storage demands, and much more.

Easy Installation

Speeding up the installation process positively affects the total cost of ownership. Arecont Vision offers a number of innovative housing designs and features in our MegaIP series that aid in creating a faster and easier installation experience as well as a precise camera setup.


Spring Arm Design
The MegaIP series of MicroDome flush mount cameras incorporate an innovative spring arm design for simple installation into drop ceilings with no external hardware required.
Simply cut a hole in the ceiling and the MicroDome pops into place, securing itself without the need for fasteners. This spring arm technology is also available on the flush mount adapter for MegaIP series MegaVideo Flex.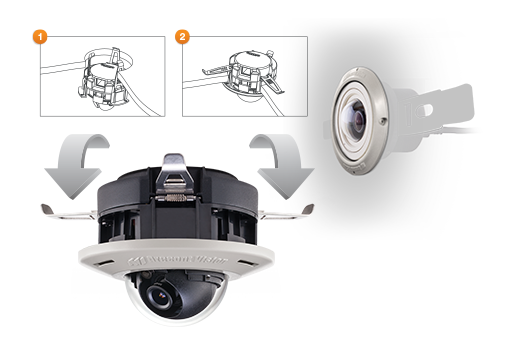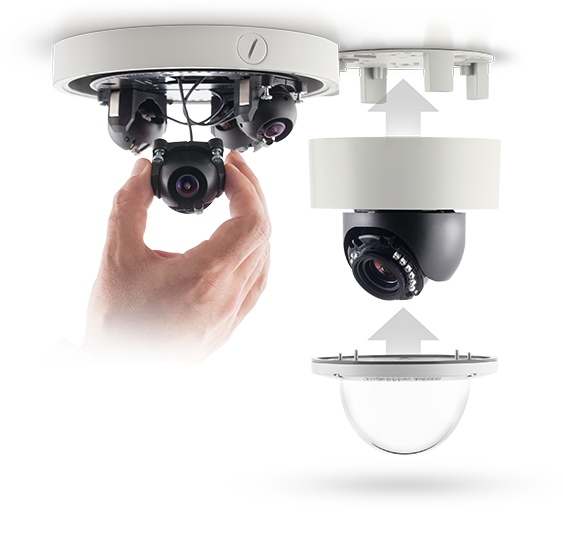 Magnetic Clasps
Magnetic clasps make installation easy and safe by allowing the installer to use both hands for installing the camera body or securing the fasteners. The latest generation MegaIP series MegaDome and SurroundVideo housing features an easy to install mounting plate that has magnetic fasteners. These fasteners hold the camera body in place while the installer secures it to the mounting plate. The MegaIP series MicroDome flush mount housing uses magnets to hold the camera dome and trim ring in place, and the MegaIP series SurroundVideo Omni series uses magnets to hold the movable sensors while the installer secures them to the metal Omni track.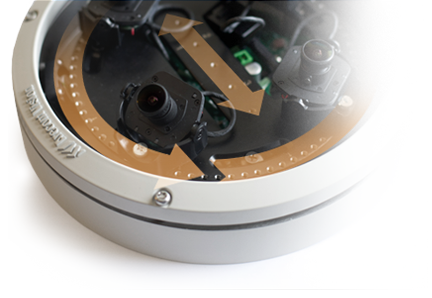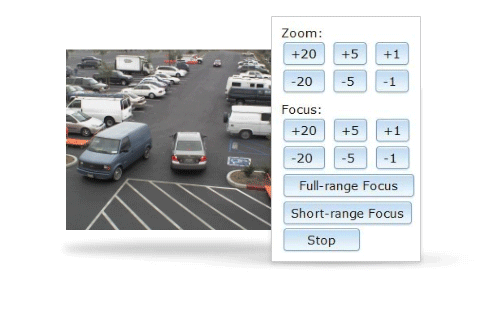 Remote Focus & Zoom
Arecont Vision MegaIP cameras with remote focus (and zoom) can be installed without locally adjusting the focus or zoom (if applicable) of the sensor. Remote focus and zoom is controlled through the 3rd party VMS or through the camera webpage.
Unique to Arecont Vision is even the smallest form factor models like the MegaIP series MicroDome, and MegaVideo Flex, as well as multi-sensor SurroundVideo® G5 and SurroundVideo Omni SX cameras have remote focus capability.

Remote Setup
The MegaIP series SurroundVideo Omni G3 features a first-of-its-kind, game-changing ability. SurroundVideo Omni G3 can be set up completely remotely with pan, tilt, focus, and zoom functionality of four varifocal lens sensors.
Configuration presets allow the user to simply click on a default 180°, 270°, or 360° configuration. Custom presets can also be saved to memory.
The MegaIP series MegaDome G3 RS also features remote setup capability for easy installation and later required view changes.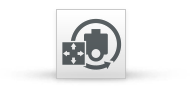 Pan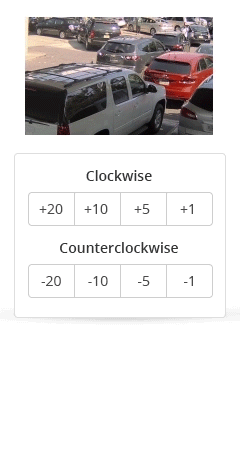 Tilt
Focus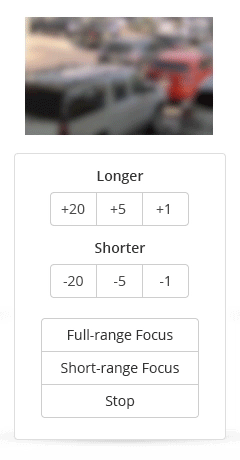 Zoom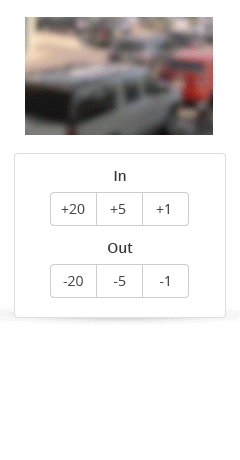 CorridorView™ with 90° Image Flip
With CorridorView, cameras with this feature can rotate or flip the image in 90° increments. This feature is ideal for narrow hallways where pixels are often wasted capturing the surrounding walls. All MegaIP series single-sensor cameras feature models with this capability.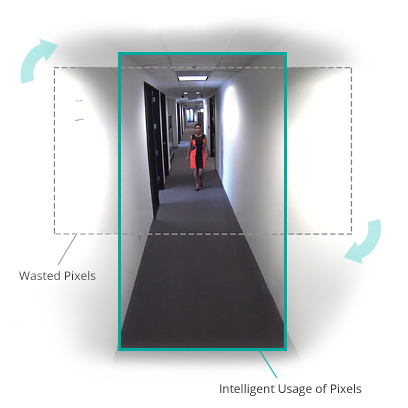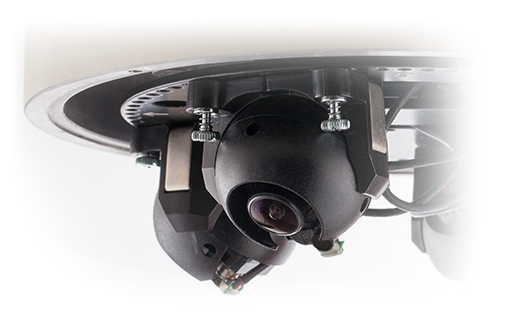 Adjustable 2- and 3-Axis Gimbals
Arecont Vision cameras with maneuverable 2- or 3-axis gimbal architectures. The MegaIP series Omni G1 and G3 offer 2-axis adjustability, while the MicroDome G2, MicroDome Duo, and SurroundVideo Omni SX offer 3-axis adjustment. All benefit from an improved range of motion when positioning sensors allowing the installer to install the camera on a wall in any angle.

Interchangeable Lenses
The smallest of Arecont Vision cameras still offer the flexibility of changing the field of views.
In MegaIP series cameras that are too small for varifocal lenses are designed for swappable M12 lenses that range from 2.1mm to 16mm.
The Remote Focus modules on cameras such as MegaIP series SurroundVideo Omni G2 and MicroDome G2 have been designed to be separate from the lenses in order to benefit from these capabilities.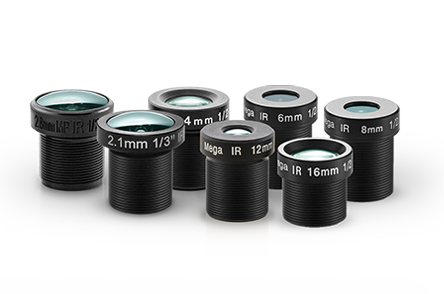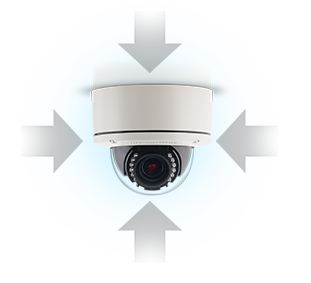 Total PoE Solution with Integrated Lens(es)
Arecont Vision cameras are a complete all-in-one Class 3 PoE solution. The camera, IR LEDs, motorized lenses, heater, and fan all operate within the Class 3 PoE specification allowing the cameras to be installed on existing network switches versus having to upgrade to PoE Plus.
Versatility & Size Matters

Arecont Vision takes pride in having the most highly versatile and smallest form factor megapixel cameras in the industry. Leading the way in panoramic megapixel technology since 2006, Arecont Vision has continued to build on this success with our various MegaIP series SurroundVideo Omni designs that offer seemingly endless multi-sensor surveillance opportunities. The MegaIP series MegaVideo Flex tethered cable design opens the door to previously unthinkable installation setups. Powerful and loaded with features, the small size of many cameras in the Arecont Vision portfolio are surveillance industry game changers.

Environmental & Standards

Many Arecont Vision MegaIP series cameras are designed to meet important compliance standards to indicate, for example, that they are reliable for outdoor use in harsh operating conditions or capable of withstanding attacks from vandals. Arecont Vision cameras are built to be tough and compliance standards are proof of this.